Support your local businesses during a crisis!
Mar 19,2020 / Local Marketing
Everyone is feeling the impacts of the COVID-19 pandemic.
But the industry that's really feeling the heat – local, small businesses.
These are just a few favorite spots that are open and changing up their options to keep their business (and you) alive and well!
Dockery's || Daniel Island, SC
P.S. – their Smoked Brisket Flatbread and Brussels Sprouts are
Orange Spot Coffee || Park Circle, North Charleston, SC
Baked goods + smoothies + coffee =
Also the official coffee of VIP and Craft Creative! (A little birdie says OrangeSport is Bernie Sanders Charleston-choice coffee, too.)
Park Circle Pizza || Park Circle, North Charleston, SC
The Chicken and Greens Salad is VIP's favorite go-to lunch! Craft's? The Late Night calzone!
Page's Okra Grill || Mt Pleasant, SC
Pimiento & Bacon Burger is
And if you're looking for a dose of Southern Soul, the Shrimp and Grits (pictured above) is just what the doctor ordered.
Revelry Brewing || Charleston, SC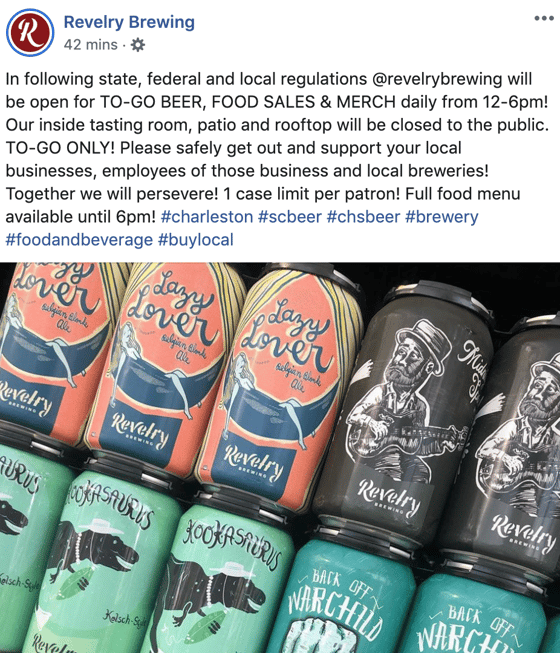 Wanna beer? Arguably the best beer in Charleston and you can walk up and grab.
Not only do they have delicious beer, but they have sushi, tacos AND donut holes. The Rooftop may not be open, but our taste buds are.
Known for this AMAZING waterfront patio, Saltwater Cowboys is serving up their good-time on the go! They are even offering discounts and deals for food service workers during this difficult time.
While these are just a few of the many, many, many local and small businesses in Charleston, make sure to support your favorite local/small business during this outbreak! They need your support now more than ever!
Other local businesses to support!