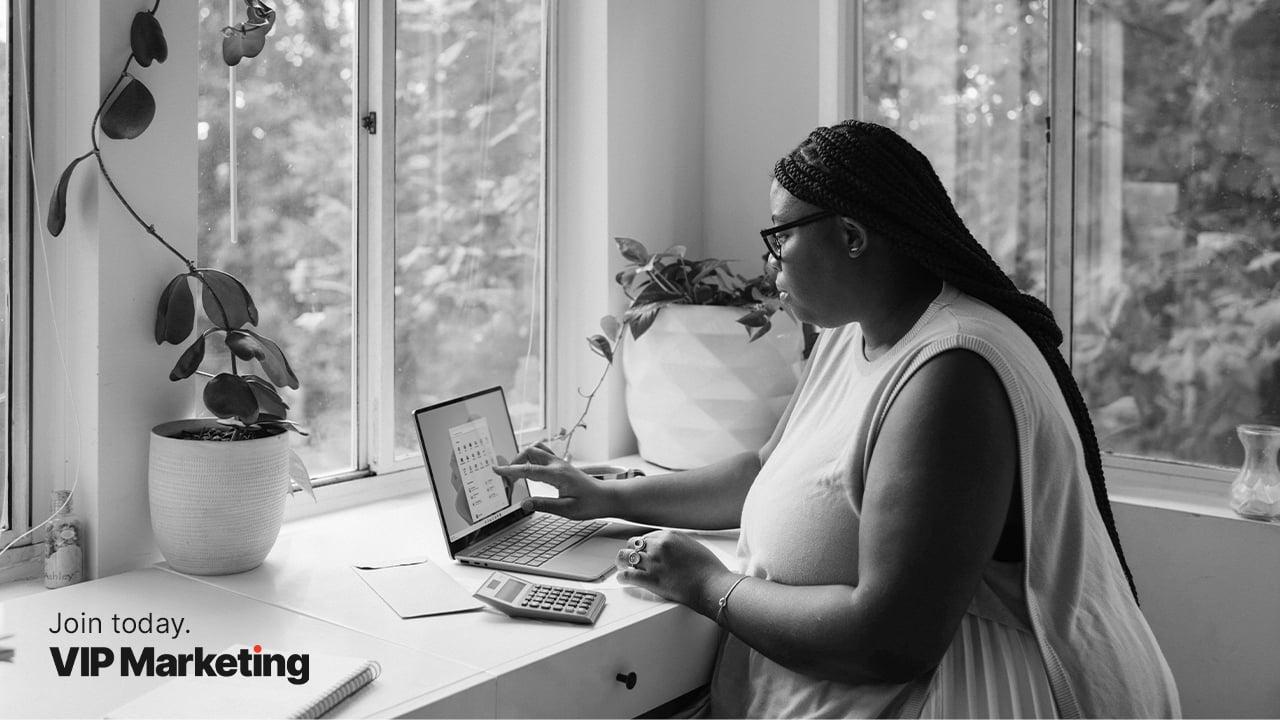 ARE YOU STARTING OR CONTINUING YOUR CAREER IN DIGITAL MARKETING?
VIP Marketing is always looking for the best marketing and advertising talent worldwide. Whether you're looking for a full-time marketing career with us or an 8-week marketing internship, we look forward to hearing from you. We proudly offer competitive salaries based on your knowledge and experience for marketing professionals joining our team.
If you were wondering if we offer benefits, Yes, we do. We offer full medical, dental, vision, and company-paid life insurance and STD (short-term disability) for full-time team members (employees).
P.S. - Did we mention that our team members receive No Pre Set Limit PTO (paid time off) working remotely?
If you've got the marketing and creative chops, apply.
WHAT TO EXPECT WHEN WORKING ON OUR TEAM?
THANK YOU for visiting our website! We're excited you're considering joining our marketing, branding, and creative teams. At VIP Marketing, we have a set of core values that serve as our guiding principles. We expect all our team members to embody these values as we serve our clients (we call them partners); they are confidence, honesty, accountability, initiative, respect, and growth.

As a member of our marketing or creative team, you can expect to work hard and play hard. We take our work seriously but believe in having fun and building strong relationships with our colleagues. Our goal is to provide excellent service to our clients, whom we refer to as partners. We believe in delivering projects on time, within scope, and with exceptional results while ensuring our clients have a great experience working with us.

As a team member, you are expected to take ownership of your work and be accountable for your actions. We encourage all team members to take the initiative and bring new ideas to the table. We believe in fostering a growth and continuous learning culture where everyone can improve and develop new skills.

We value open and honest communication from every team member. It is part of our core values to respect everyone, including ourselves, and build solid relationships with our partners and colleagues. Just following these simple rules has allowed us to create a positive and inclusive work environment where everyone can thrive.

In summary, working on our marketing and creative teams at VIP Marketing means embodying our core values, working hard and playing hard, delivering on our promises, taking ownership and initiative, fostering a culture of growth and learning, and treating everyone with respect. If you're looking for a dynamic and rewarding career in marketing, branding, and creative we may be a great fit for one another, and we invite you to consider joining our team at VIP Marketing.
We are very selective about the interns we select to join our marketing and creative teams. As an intern for VIP Marketing, you will never be told to grab coffee. Our internships revolve around learning the best marketing practices and strategies. You will be asked to take daily journals of your work and experiences and have weekly de-briefings to discuss what you've learned week to week.
You'll be getting your hands dirty on Day 1. If this sounds like something you would crush, fill out the form below and attach a resume.
VIP Marketing is a growing agency specializing in automotive, legal, and healthcare marketing. So, if you have some knowledge of these categories, contact us.
Continue your marketing career in Charleston, SC. VIP Marketing is a growing agency specializing in automotive, legal, and healthcare marketing. So, if you have some knowledge in these categories, reach out to us.
All of our team members are certified in Google Search, Video, and Display Ads as well as Google Analytics. The best candidates will be able to demonstrate competence within these Google tools. In addition, we pride ourselves on teamwork. You will rely on others while also being relied upon by team members for a number of tasks. If this sounds like it's up your alley, fill out the form below, and share your resume.
We look forward to meeting you.