Company Promotes a Seltzer-Sipping Mask
Social distancing is a important but comes with its challenges. That's why one company is branding their hard seltzer in a fashionably safe way: Seltzer-Sipping Friendly Masks.
Crook & Marker, a spiked hard seltzer brand based out of New Jersey, has made it easier for you to sip while staying safe.
Masks developed by TasteMask have a straw flap that allows people to drink while remaining covered up.
Talk about functional fashion!
The masks come in four different color patterns with tropical themes – Pineapple, Lime, Black, and Raspberry – and start at $14.99.
All proceeds from sales will be donated to the USBG Bartender Assistance Program, which helps bartenders and other hospitality staff out of work due to COVID-19.
Crook & Marker created the masks to help market its new Spiked Coconut drinks on their Instagram.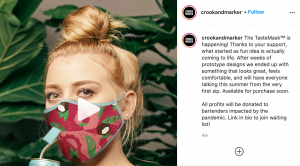 However, the company began receiving a flood of requests for the masks. So much so that they've started making more face coverings.
But you don't have to buy a canned beverage to purchase the limited edition masks. Currently, they are back up 2-3 weeks! Check out their website for the next batch of masks!
Want to know how to use social media to your advantage during COVID? We broke that down for you.
The Seltzer Market has become oversaturated with products – Truly, White Claw, Bud Light Seltzer, Corona Seltzer – but Crooker & Marker is making their name known.
By identifying a problem – while it may have seemed like a fun joke for social media at first- and integrating into their marketing strategy, they are now increasing brand awareness while supporting a good cause.
If this doesn't show the power of a good idea and marketing, then we don't know what does!