VIP Marketing & Advertising Appreciates Our VIP Customers
Jul 26,2019 / news
We believe every business deserves the VIP—VIP Marketing—treatment. Today's digital age has brought on an unprecedented marketing and advertising evolution, and we're here to help clients navigate the relatively new and unchartered territories of digital and social marketing, SEO and SEM, and online display advertising, just to name a few. Sometimes, though, companies want traditional advertising—and we're happy to provide the tried-and-truth strategies that we know will differentiate our clients from their competitors.
We're honored to be listed as one of the top advertising agencies in South Carolina on Clutch, a respected B2B ratings and reviews website. Our most recent review on Clutch details the traditional marketing services that we provide to a local car dealership. We do everything from the creative for TV ads, to filming, to managing air time with various channels. Our work has driven site traffic and significantly increased total sales. The client gave us a five-star rating.
"They're an energetic team with a good leader. In the past, we've worked with large companies that are very impersonal, but we like that VIP Marketing & Advertising is local to us and knows what we're trying to accomplish." – Terry Breedlove, Manager, Jones Ford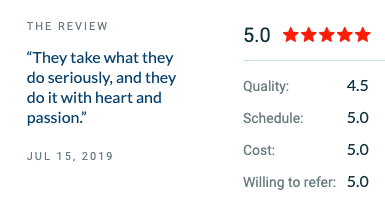 We're also pleased to be featured on Clutch's sister sites: Visual Objects, a visual portfolio site that showcases work from top creative firms globally, and The Manifest, a business news platform. We are one of the top 15 digital marketing agencies in South Carolina on The Manifest.
We are grateful for the feedback that our clients take the time to leave, as it gives potential clients an idea of the variety of services that we provide.
"Every client we partner with has a hand in our business. We realized a long time ago that this is a partnership with our clients. When you are in a partnership, you each have responsibilities, and our responsibility is to service them on time, within the scope, and obtain results for them. I appreciate the reviews and feedback that our clients give us. To me, reviews help bring us back to reality because we are receiving feedback from another perspective. It is reviews that help hold us accountable." Eric Elliott, Agency Principal
We're eager to continue providing top-rate marketing services, so please contact us today!